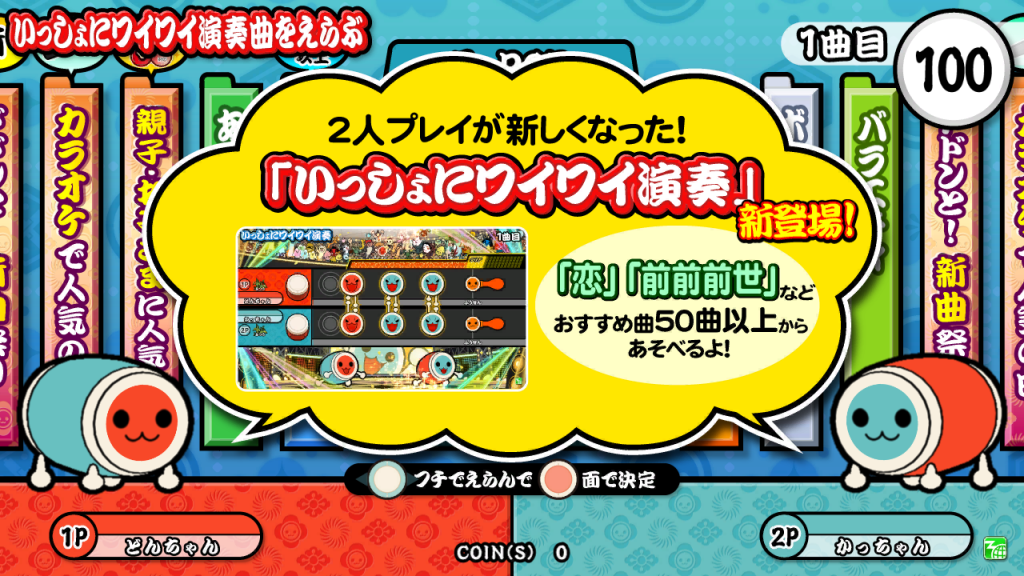 Premiered during the Yellow Version arcade firmware in both Japanese and General Asia Taiko HD arcades, the Issho ni Waiwai Ensou (いっしょにワイワイ演奏) mode is a custom mode that is triggered upon the start of a 2-player play by default, with the regular 2P variant still available to pick up.
This mode offers a selection of songs from the full songlist normally available in public builds, with the main objective of clearing track with a shared soul gauge bar between the two players. The Issho ni Waiwai Ensou mode allows the selection of different difficulty modes among the two players, with every available song's charts on all modes being re-branded to emphasize the mode's cooperative aspect. No gameplay modifiers of sorts can be chosen while playing with this mode.
Below is the list of songs available for the Issho ni Waiwai Ensou mode, sorted by genre and release date.
Key:
Anime
Children/Folk
Classic

J-Pop
Game Music

Variety
Vocaloid
Namco Original
Ura
August 8th, 2017: Game Version V5.17 (Mode Launch Bundle)

Taakane no Hanako-san (高嶺の花子さん)

Shin Zombie (シン・ゾンビ)

STAY TUNE

Yatte-miyou (やってみよう)

Tomo ni (ともに)

Ashita Mo (明日も)

Koi (恋)

Zen Zen Zense (前前前世)

Sukina Hito ga Iro Koto (好きな人がいること)

Christmas Song (クリスマスソング)

Natsu Matsuri (夏祭り)

Kurenai (紅)

Koi Oto to Amazora (恋音と雨空)

Tentai Kansoku (天体観測)

Ikenai Taiyou (イケナイ太陽)

Sakuranbo (さくらんぼ)

Sugar Song to Bitter Step (シュガーソングとビターステップ)

R.Y.U.S.E.I.

Umi no Koe (海の声)

Watari-dori (ワタリドリ)

Tomo Yo~Kono Saki mo Zutto… (友よ ~この先もずっと…)

Silent Majority (サイレントマジョリティー)

365 Nichi No Kami-Hikouki (365日の紙飛行機)

Himawari no Yakusoku (ひまわりの約束)

Memeshikute (女々しくて)

Kiseki (キセキ)

Linda Linda (リンダリンダ)
GEED no Akashi (GEEDの証)
SHINY
Aozora no Rhapsody (青空のラプソディ)
Mezase Pokemon Master -20th Anniversary- (めざせポケモンマスター -20th Anniversary-)
Mirai wa Joe! Joe! (未来はジョー!ジョー!)
Cocotama Happy~Paradise! (ここたまハッピ~パラダイス!)
Road Movie (ロードムービー)
Doko Made Mo ~How Far I'll Go~ (どこまでも 〜How Far I'll Go〜)
SHINE!! Kirakira☆PreCure a la Mode (SHINE!! キラキラ☆プリキュアアラモード)
LUCKYSTAR
Genkai Toppa×Survivor (限界突破×サバイバー)
Korokoro Cocotama! (ころころここたま!)
Yokuoso Japari Park e (ようこそジャパリパークへ)
Alola!! (アローラ!!)
Zenryoku Batankyu (全力バタンキュー)
Paradisus-Paradoxum
Try Everything (トライ・エヴリシング)
Su・ma・i・ru (ス・マ・イ・ル)
Kimi ni 100 Percent (キミに100パーセント)
We Can! (ウィーキャン!)
Chouzetsu☆Dynamic! (超絶☆ダイナミック!)
EXCITE
Tonari no Totoro (となりのトトロ)
Let It Go ~Ari no Mama de~ (Let It Go~ありのままで~)
Guren no Yumiya (紅蓮の弓矢)
Kimi no Shiranai Monogatari (君の知らない物語)
You Got A O-tomodachi (ゆーがらお友達)
Yokai Taizou Dai Ichi (ようかい体操第一)
crossing field
A Cruel Angel's Thesis (残酷な天使のテーゼ)

Sukatto Bachan no Uta (スカッとばあちゃんの歌)

Ebikanics (エビカニクス)

Pen-Pinapple-Apple-Pen (PPAP) (ペンパイナッポーアッポーペン(PPAP))

Iro wa Nioedo Chirinuru o (色は匂へど 散りぬるを)

Bad Apple!! feat. nomico

Cirno's Perfect Math Class (チルノのパーフェクトさんすう教室)

Night of Knights (ナイト・オブ・ナイツ)

Last Brutal Sister Flandre S (最終鬼畜妹フランドール・S )
Charles (シャルル)
+♂ (Plus Danshi)
Senbonzakura (千本桜)
Roku-Chounen to Ichiya Monogatari (六兆年と一夜物語)
Ghost Rules (ゴーストルール)
Noushou Sakuretsu Girl (脳漿炸裂ガール)
Alien Alien (エイリアンエイリアン)
Lost One no Goukoku (ロストワンの号哭)
Yi-er Fanclub (いーあるふぁんくらぶ)
Amanojaku (天ノ弱)
Kagerou Daze (カゲロウデイズ)
October 11th, 2017: Game Version V7.11

Beauty and the Beast (美女と野獣)

Yuuwaku (誘惑)
Nimensei☆Ura-omote Life! (にめんせい☆ウラオモテライフ!)
Haikei Doppelganger (拝啓ドッペルゲンガー)
October 18th, 2017: Game Version V7.11
MANKAI☆Kaika Sengen (MANKAI☆開花宣言)
Back to previous page